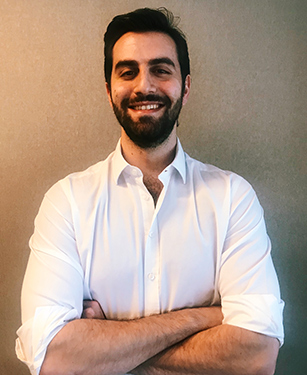 Baris D.
Product Manager, Hematology
Istanbul, Turkey
Employee Since 2016
Trust, Innovation and Patient‑Centricity
Since joining Takeda in 2016, "I've seen first-hand how the company never loses sight of patients and how the teams keep patients at the center of everything they do," Baris reflects. "But it's also about how we're empowered to make a visible impact and take charge of our careers," he adds.
Company and Leadership Built on Trust
In 2016, Baris started his Takeda career in the Market Access function. Market Access helps communicate the value of Takeda's products to stakeholders who advise on access and purchasing decisions. It also supports the marketing and distribution of products. Prior to joining Takeda, Baris held similar positions at two other large pharmaceutical companies. He is confident that "Takeda is going in the right direction" and this was a big factor in him deciding to join the company.
Within his first few months, Baris made more stakeholder appointments as a Takeda Market Access Partner than he had in all of his prior positions combined! He attributes this to the encouragement of his manager, who recognized his potential and encouraged him to take the lead in meetings and visits. "At the end of the day, the outcome and benefits are much greater when you empower your employees," Baris says — and that's evident at Takeda.
"We're empowered to make a visible impact and take charge of our careers."
Innovation and Impact
As a new employee, he soon discovered that Takeda was "amazingly efficient in decision making and stakeholders were surprised at how quickly we can move." He applied this approach to his role by developing and implementing reimbursement strategies.
Through his innovative efforts and with support from his manager, he was soon able to get a product reimbursement launched ahead of schedule. This allowed Takeda to get treatments into the hands of patients sooner, which amply demonstrates that "Takeda never forgets the core of patient-centricity," says Baris.
What he didn't realize, at the time, was that this same speed and efficiency would also apply to his career. One year after joining the Market Access function, he took on a new opportunity within the Marketing function. "In this new position, I can make an even greater contribution."
More than a Number. Takeda is about People.
The saying, 'it's a small world' rings true within the pharmaceutical industry. Not only has Baris worked at several big competitors, he also has a strong network of friends that work in the sector. So, what is the biggest difference from one company to the next? For Baris, it's that each company has a different set of values. For some, the values are all about the numbers and the bottom line. For others, the values are just words.
"When you look at how we put the patients at the center, and the focus on our values, Integrity, Fairness, Honesty, and Perseverance," Baris says, "you see a business that is genuinely people-oriented." And it is these values that push him to do his best work. By giving his best, he can do more for doctors, nurses, pharmacists, and most importantly, for patients. "Takeda's values are different and that's why I can proudly say that I work for a people-oriented organization."
Since joining Takeda, it's been all action and fast-paced, with a bright future ahead. And Baris can tell that Takeda's approach is making a difference. "Our focus is on helping and supporting people, whether patients or employees. That's putting Takeda in the spotlight in a good way."